>
HOME
>
STEWARDSHIP
The following is a copy of the current Mid-Atlantic United Methodist Foundation's e-newsletter. You can have this newsletter delivered directly to your inbox every week by subscribing on the Mid-Atlantic United Methodist website right here.
MAUMF Welcomes Rob Morgan, CIO

Jack Brooks, Executive Director of the MAUMF, is pleased to announce the appointment of Rob Morgan in the new position of Chief Investment Officer for the Mid-Atlantic United Methodist Foundation. Rob has been Chief Investment Strategist for Fulcrum Securities, President of Dearden, Maguire, Weaver, and Barrett LLC, Investment Strategist at Janney Montgomery Scott, and Chief Investment Officer for Fulton Financial Advisors.  Rob graduated cum laude from Vanderbilt University with a Bachelor of Science degree.  He continued on at Vanderbilt where he was awarded a Master's in Business Administration.  Upon graduating from Vanderbilt Rob served as a submarine officer in the U.S. Navy. Rob appears periodically on national media outlets to discuss economic and market topics. He is one of the 50 market-watchers who participate in the CNBC Fed Survey before every Fed meeting. 

Rob has served his local United Methodist Church as a member of the Finance and Endowment committee. His father was a UMC pastor and his brother is also a pastor. "In many ways I feel this is my chance to now serve in the family business by using my investment knowledge and skills to assist churches who select the Foundation's investment platform and services." said Rob. 

In his position as the Chief Investment Officer of the Foundation, Rob will take an active role in managing current client portfolios and in the development of new investment client relationships."The selection committee was impressed with Rob's extensive knowledge of the investment markets, experience serving the local church, and understanding of the MAUMF's goals for continually improving and expanding our high quality investment platform." said Brooks.

Rob will be attending a number of upcoming Foundation events and education seminars. To contact Rob for a portfolio review or to discuss a new investment opportunities please contact Rob at the Foundation office at 800-828-9093 Ext 1008.

www.midatlanticfoundation.org
Legacy and Planned Giving:
www.maumflegacy.org

Have you completed your Asset Allocation review?
A tool to review your Risk Profile Assessment is available.
For a copy please contact:
Tracy Brown, Operations Manager at 484-762-8211

Be the Blessing,
Jack Brooks
Executive Director
Mid-Atlantic United methodist Foundation 


 

For more information call us at 800-828-9093 Ext 1008 or visit our Website: www.midatlanticfoundation.org
---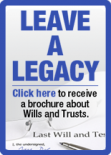 PERSONAL PLANNER
Trusts can be quite useful for protecting children. However, for some children, the trust serves an additional function: It protects the principal from being rapidly spent by a child.
---
SAVVY LIVING
I recently read an article about how "smart home" devices can help with aging in place. What types of smart home products can you recommend that can help with this?
---
DONOR STORY
Luke and Candice spent many years volunteering and supporting their favorite charity. They wanted to give back in a way that would help fulfill its mission.
---
WASHINGTON NEWS
In IR-2019-1, the Service stated it would open the tax-filing season on January 28, 2019. With the continuing government shutdown, many CPAs and tax preparers were concerned that the IRS might delay the processing of 2018 income tax returns.
---
FINANCES
Thank you for your interest in planned giving. To access any of our resources, please go to our website.
---
Mid-Atlantic United Methodist Foundation, PO Box 820, Valley Forge, PA 19482
© 2018 Crescendo Interactive, Inc.