>
HOME
>
STEWARDSHIP
January 2019
New Every Morning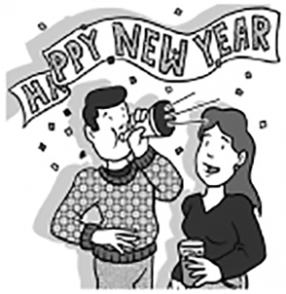 It's a new year. Not only do we turn over a page on the calendar, we begin a whole new calendar. For many, a new year brings promise of a new start, but many don't have such an optimistic view.
The bills from over-spending at Christmas are starting to come in, and there's no more money now than there was a month ago. Then there's the problem of the extra ten pounds you put on due to all the goodies you consumed. None of this is new. The calendar may say a new year, but only the date is new.
Instead of looking around us at our circumstances or inside ourselves where there is no hope or inspiration, let us look at God's unfailing compassion and his blessings which he pours out on us daily (Lamentations 3:21-23). Let us spend our prayer time in thanks for all he has done for us and provided for us, rather than in lamenting our sorry state. Let us look to his wisdom to manage his gifts to us in a wiser manner so that we might please him and be of service in his Kingdom. Especially let us thank him for the gift of forgiveness and the new start he gives us minute by minute.
Prayer: Dear Lord, we thank you for this New Year that you have given to us. We know our time is a gift from you and in your hands. Help us to use the time you've given us in ways that give you honor and glory.  We pray this in your precious name. Amen.
Blessings on your stewardship journey!
Copyright Parish Publishing, LLC. All text and images used with permission.

Beginning Again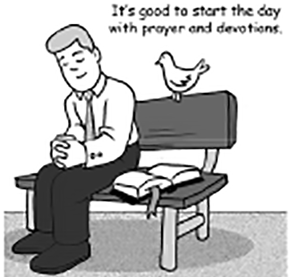 "In the beginning God created the heavens and the earth" (Genesis 1:1). Sometimes it's good to get back to the basics. When the whirlwind of holiday events and celebrations is over, it's time to gather our wits and prepare for the coming year. Time to get our bearings. Time to think afresh. Time to take stock of the past year, for some remembering its blessings, for others, sorrowing over its setbacks.
Whether rejoicing or sorrowing, however, God is there with us. He laughs with us in our times of joy and wipes away our tears of sadness. He is always here. All it takes is a word from God's mouth and there it is. He created it, he owns it, and he loans it to us for our use. In addition, all the time, he is there with us; never will he leave us (Hebrews 13:5). This is no time for regrets over the past, for God has forgiven and forgotten our sin. There is no cause for worry over what the New Year will bring, for God has already been there.
Each of us can make a new beginning; in fact, each day, each moment can be a new beginning. By God's grace, let us make that new beginning, then, living according to God's plan for us and managing the vast resources he has loaned to us to the best of our abilities, honoring him in all we say, in the way we live, and through our generous offerings as we work to make his name known.
Prayer: Lord, we thank you for your grace that gives us new life and a new beginning. Amen.
Blessings on your stewardship journey!
Copyright Parish Publishing, LLC. All text and images used with permission.
Trusting in the Lord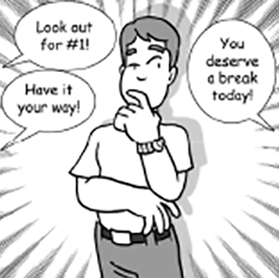 Jesus said, "But seek first his kingdom and his righteousness, and all these things will be given to you as well" (Matthew 6:33). Unfortunately, many people seem to transpose this verse as they first seek worldly things with the hope that God's blessings will still be there. Are you more focused on your lifestyle, where you live, what you drive, or what you wear than with seeking God?  God's promise to those who seek him is that he will provide for them and bless them. "Never will I leave you; never will I forsake you" (Hebrews 13:5). Do you trust in his promise
Prayer: Dear Lord, help me not to become too preoccupied with things of the world. The world, Satan, and my flesh tempt me to focus on myself and to accumulate as many materials things as possible. Grant me the faith and wisdom I need to understand that only you can provide me with lasting joy, peace, and contentment.  In Jesus' precious name I pray. Amen.
Blessings on your stewardship journey!
            Copyright Parish Publishing, LLC. All text and images used with permission.
Our Need to Give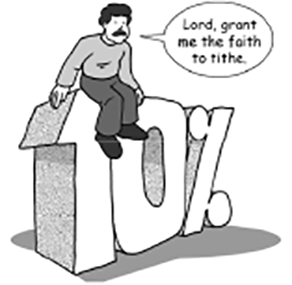 God's Word is clear about our need to give and how we are to give. For example, in Exodus 23:16, God tells his people that they are to bring their best to the Lord. In Proverbs 3:9, He directs his people to give their first fruits. In the writings from Paul, we read that we are to give on the first day of the week (1 Corinthians 16:2). So how does God react if we are not faithful in our giving? Through the words of the prophet Malachi, God showed his displeasure to those who were depriving him of their tithes and offerings (Malachi 3:8-9). Are you pleasing God through your attitude toward giving and what you give?
Prayer: Dear heavenly Father, you are the source of all good things. Daily I receive your tremendous love and mercy. Because you are a loving and giving God, I live with the assurance that you will never stop giving to me and caring for me. Change my heart so that I may become a loving and giving person. Lord, help me to give you my first and best. Amen.
Blessings on your stewardship journey!Blessings on your stewardship journey!
Copyright Parish Publishing, LLC. All text and images used with permission.
Being a Disciple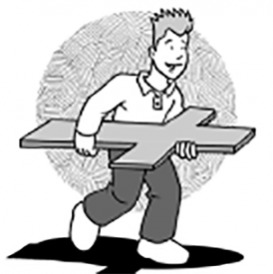 In order to be his disciple, we must follow Jesus. In addition to following him, Jesus informed his disciples that there are other requirements to being a disciple. In Mark 8:34 we read, "Then he called the crowd to him along with his disciples and said: 'If anyone would come after Me, he must deny himself and take up his cross and follow me.' " If we don't turn away from Jesus' call to be his disciples, we understand what John the Baptist said, "He must become greater; I must become less" (John 3:30). The disciple who denies himself is unaware of himself and knows Christ only. By teaching us that we must deny ourselves, Jesus has prepared us to carry our crosses. Knowing only him, we are unaware of the burdens of our crosses; we view our lives as disciples with joy. Disciples keep their eyes on Christ, without thinking of themselves, and "consider it pure joy . . ." (James 1:2) to face trials and testing of their faith.
Prayer: Lord, place in me a heart that seeks the lost. I pray for guidance, wisdom, and courage as I share your love with others. I thank you for the privilege of being your instrument to tell others about the life-saving Gospel. In your name I pray. Amen.

Blessings on your stewardship journey!
Copyright Parish Publishing, LLC. All text and images used with permission.